by W.A. Steer PhD
About...
---

Welcome to techmind.org, a site devoted to sharing my enthusiasm and knowledge of various aspects of science and technology. You'll find approachable but in-depth information on many topics including single-image autostereograms (those clever 3D pictures), electronics and PC interfacing projects, audio and graphics programming, sonoluminescence, as well as ready-to-run downloadable programs to experiment with. I hope you find the site useful.
Feature articles
---
Software to experiment with
---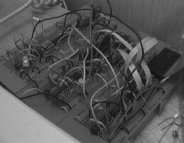 Homebrew video projects
---
Optical section
---
Short technical notes
---
Understanding and Visualising Energy Issues
We hear more and more about the Environment, global warming, CO2 in the media, yet too many stories and column-inches are well-meaning but emotionally charged and poorly-informed. This new section of my website aims to try and give a more balenced and scientifically-rooted perspective on energy-issues.
Energy Calculations - calculations and key figures to facilitate some rationality in energy debates
---
Projects blog...
A new feature - the tech proj blog!
---
External links...
If you enjoyed this site, you might find some of my "bookmarks" useful.
---
Historical...
A complete mirror of my old site ( http://www.ucl.ac.uk/~ucapwas/ ) can be found at http://www.techmind.org/ucapwas/ .
Please don't forge any new links to these pages though; this mirror is only supposed to be temporary. Thanks.
---
Created: October 2001
Last modified: 15 Jan 2012
Source: http://www.techmind.org/

©2005-12 William Andrew Steer
andrew@techmind.org